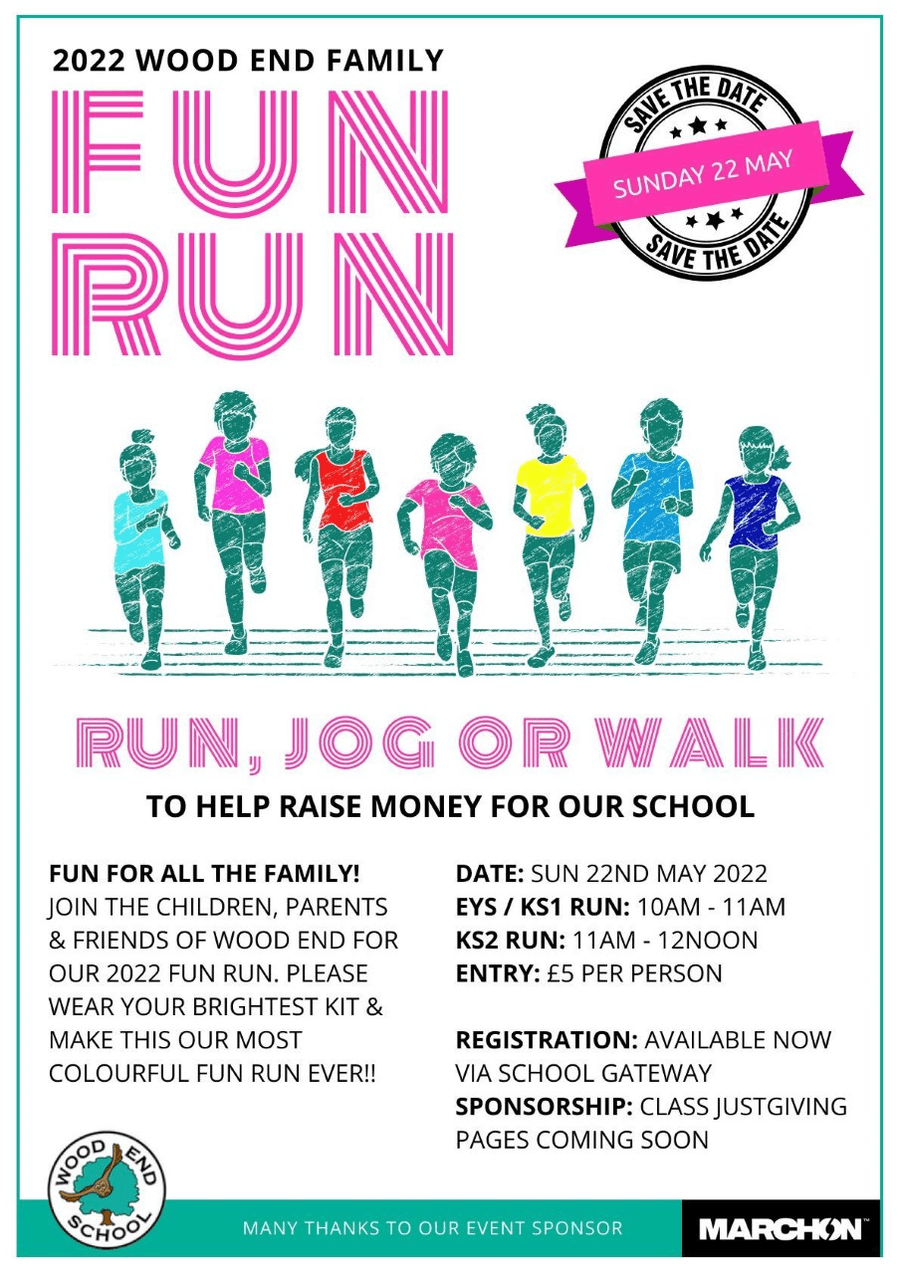 FoWE Fun Run
Wood End School Family Fun Run 2022
Event info
When: 22 May 2022, 10am-12pm. Gates open at 9:30am.
Where: School field
Sign up: Gateway – must be before the event, pupils and family members (supporters) can run too
Closing date for entries: 16 May
How will the Fun Run work?
Marchon, our event sponsor, will warm provide a warm-up before each run – KS1 will start around 10am and KS2 at 11am. Pupils and their families will run or walk laps of the field – each time they complete a lap pupils will get their race number marked. At the end of the run (20 mins for KS1 and 30 mins for KS2) Wood End students record the number of laps completed with a parent volunteer from their class and receive a medal. Certificates will be handed out in assembly the following week celebrating the number of laps completed.
How long is the course?
Four laps is roughly one mile.
What time should we arrive?
The gates will open from 9:30am. The KS1 warm up starts at 10am and the KS2 one starts at 11am.
Do I need to run with my child?
No, but all children attending the fun run must be supervised by an adult. If you don't want to run feel free to watch and cheer from the side-line.
Do I need to buy a supporter ticket if I'm not running?
No, only people running need to pay for entry on Gateway.
Can I enter to run on the day?
No, all entries must be in advance in order to give the organiser's time to sort the race numbers for participants. Entries close on 16 May.
If we're not running can we still attend to cheer on our classmates and friends?
Of course! There should be a lovely atmosphere on the day with music playing and refreshments available.
Can children who are no longer at Wood End run? And in what race?
Yes, the whole family is welcome. Everyone running must have registered via gateway (either as a pupil or as a supporter). Either race is fine, but note that the KS1 race is 10 minutes shorter so there's less time available to run laps!
Can we run as a family if one child is in the KS1 race and another in the KS2?
You can all run together, but you can only get your race number marked in one race, so choose which race best suits you as a family.
Can nursery children run?
Yes, we'd advise in the KS1 run as it's shorter time wise
Will the course be marshalled?
Yes, we have several parent volunteers attending to cheer children on and support kids who are struggling to run or who take a tumble. Parent volunteers who are trained medical professionals will provide First Aid where needed.
What post-race snacks are available?
All participants will be offered a piece of fruit and a carton of juice post-race. We will provide details of what these are ahead of the event so parents can account for any allergies.
We'll also have a stand where you can buy refreshments (tea, coffee, cakes etc.)
When do I get my race number?
Please collect these after school on 19th and 20th May in the sheltered picnic area in the playground. It's really important that you collect your race number before the event and arrive on the day ready to warm up and participate. If you don't manage to collect your number then you can collect it on the day, but we can't guarantee you'll reach the start line on time.
Important: on the back of your number please complete emergency contact information for the adult supervising each child on the day.
How can I fundraise?
Fundraising is optional. You are already helping to raise funds by participating! However, if you do want to ask family, friends, neighbours and anyone else for their support through sponsorship, please share with them your child's class justgiving page – links are below.
All fundraising will be done online via these pages and the classes that raise the most money in KS1 and KS2 will receive £50 from our event sponsor Marchon to spend on their class.
Nursery (Seedlings and Saplings): https://bit.ly/3LhmCY8
Reception (Beech): https://bit.ly/3EHUECm
Reception (Ash): https://bit.ly/Ashclass
Year 1 (Chestnut): https://bit.ly/37HARH9
Year 1 (Cedar): https://bit.ly/cedarclass
Year 2 (Holly): https://bit.ly/3Oykn4W
Year 2 (Hawthorn): https://bit.ly/3k8xVGc
Year 3 (Pine): https://bit.ly/3KcVok0
Year 3 (Poplar): https://bit.ly/3v9G9UO
Year 4 (Maple): https://bit.ly/3vFVICN
Year 4 (Rowan): https://bit.ly/3Kgnhb0
Year 5 (Willow): https://bit.ly/37HBfp5
Year 5 (Sycamore): https://bit.ly/3vARM6i
Year 6 (Oak): https://bit.ly/3rNNnvJ
Year 6 (Elder): https://bit.ly/3Lf8eQm
Year 6 (Elm): https://bit.ly/3KdEjXn
Questions?
If you have Qs that aren't answered here then please email schoolfunrun@hotmail.com or ask us via your class rep.