Sports
Sport at Wood End is thriving! Pupils and staff alike are enthusiastic about P.E. and extra curricular activities. All children are involved in two hours of high quality P.E. lessons each week, one of which is taught by a specialist P.E. teacher. There are many extra-curricular clubs ranging from football and running club to street dance and karate. On the competition front, all year groups have the opportunity to compete in tournaments throughout the year.
Sports Day 2019
What a super Sports Day! There was a lovely atmosphere throughout the day and we were very proud of all the children in the way they competed, showing great sporting values. My thanks to all the parents and family members that came and watched - it was a superb turnout at both Key Stage events. Well done to Yeomans Yellow – winners of Key Stage 1 and 2, and Sports Day overall. Thank you also to Year 6 for all their help; Roundwood Park pupils, and the PTA for selling much needed beverages all day!
Tri-Golf County finals- Friday 5th July - Wood End County Champions!
Well done to our Year 4 Tri-golf team. They competed in the county finals at St Albans on Friday, and we are delighted to say they are - county champions!! A fantastic achievement!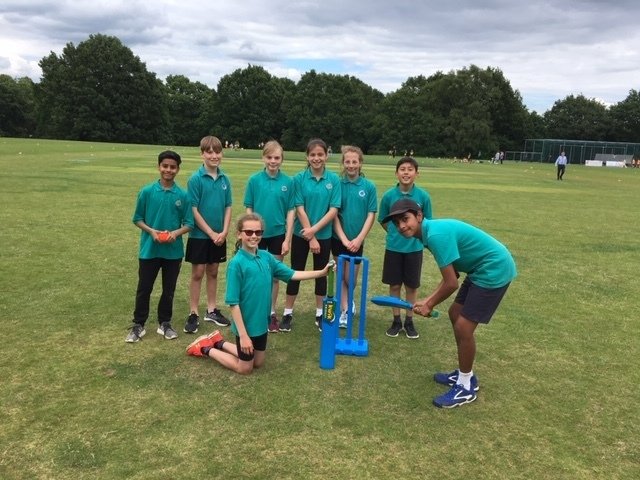 Kwik Cricket Festival - Tuesday 18th June 2019
Our Year 6 team took part in the Kwik Cricket Festival at Harpenden cricket club on Tuesday 18th June 2019. We played seven games winning six and losing one to finish in third place overall. Well done!
Year 6 Sport w/c 3rd June 2019
Our girls travelled to St Albans Cricket club to take part in the annual girls only event on Tuesday this week. We played six games, winning five and losing once to the girls private school Beechwood, so we just missed out on the semi-finals.
Wood End also took part in the rounder's tournament at Redbourn School on Thursday. We played six group games, winning five and losing one, before meeting Crabtree in the semi-finals where we lost 7-8.

Well done to both the teams!
Year 3/4 Sport w/c 7th May 2019 & 15th May
Please see the picture above of the Year four boys football tournament on Tuesday 7th May at Saunceywood. We played six games winning four and drawing one before eventually losing 1-2 in the final to St Nicholas. Our children were excellent on the day.
Please also find above a photo from the Year four tennis tournament at Roundwood Park School on Wednesday 8th May. We came second overall which was a fantastic achievement. Also, congratulations to our Yr3&4 Tri-golf team who won the tournament, held at Roundwood Park School on the 15th May.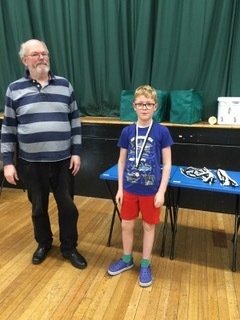 Chess Megafinals - Saturday 4th May
The following students; James K, Tristan M, Srieyohme S, Cameron J, Panashe M and James C entered in the UK Delancy Schools Chess Megafinals Competition in Harpenden on Saturday 4th May 2019. James C won a medal in his age category and all received a certificate for participating in the regional Megafinals.
The Megafinals select the best chess players from school and clubs in the region get together to compete in one competition. 40,000 children enter the UK Chess Challenge but only 20% qualify for the Megafinals.
Michael Flatt; Chairman of HSCA (Hertfordshire School Chess Association) presented James C with his medal.
Competitor in the National Primary Cross Country Race - Saturday 23rd March
On Saturday 23 March, Isabella T represented Hertfordshire in the National Primary year 6 cross country race. She placed 120th out of 336 girls. The race was 2.4km long with a couple of hills and mud bogs! It was a really tough race but she performed really well. Well done.
Quicksticks Festival - Tuesday 26th March
Our Year six hockey team travelled to St Albans yesterday to take part in the annual Quicksticks Festival. Twenty four schools were in attendance on the day. We played ten, won seven, drew two and lost one just missing out on a quarter-final place. The children really enjoyed the experience to represent our school.
Woodend Football Tournament - 21st March
Wood End hosted the annual Harpenden school football tournament yesterday, you might have heard the klaxon going every seven minutes! Our team came second in the group narrowly missing out on a semi final position. They played well throughout the tournament and thoroughly enjoyed the experience.
Speedstacking Final - Tuesday 19th March
Our year four boys speedstacking team travelled to Wodson Park in Ware on Tuesday this week morning to take part in the county finals representing Harpenden. In their respective competitions the boys came second and third which was a brilliant achievement. Please find in the picture a photo with British speedstacking champion Lee Norton who is competing in the speedstacking world championships in Singapore during the next few months.
Rapid Cricket Competition - Wednesday 6th March
Year four participated in the rapid cricket competition last night at Roundwood Park school. We played five games winning three and losing two. We came second in our group but it was only the winners who got through to the final which was a shame. All our children enjoyed the evening!
Premier League Football Tournament - Tuesday 26th February
Our Year 6 boys football team attended the premier league football tournament yesterday. With 32 schools in attendance we played 7 won 2 drew 3 and lost 2. Our children enjoyed the experience and had the added bonus of seeing the Watford FC first team jumping on their coach to the Liverpool FC game that evening.
Tag Rugby – Thursday 7th February
At a very muddy Harpenden Rugby Club our tag ruby team competed in the Harpenden Schools Competition. We played 7 games and lost 2. The children thoroughly enjoyed themselves.
Netball - Tuesday 5th February
The squad played their first match of the season against The Grove. Team 1 were narrowly beaten 5-4 and Team 2 won 5-2. All of the girls played really well and were a credit to the school.
Speed Stacking Competition - Tuesday 29th January
We took part in the annual Harpenden/St Albans Schools Speed Stacking Competition at Roundwood secondary school. Four boys and four girls from year four represented Wood End on the day against 19 other teams. Our boys came first and our girls came second, meaning we came first overall, winning the competition! Having won their individual competition the boys now qualify for the county finals in March.
Boy's Football League—Monday 21st January
Well done to both our fabulous teams: A Team Manland 1-0 Wood End B Team Manland 0-2 Wood End
Girl's Football - Thursday 22nd November 2018
The girls played two friendlies against The Grove. The team comprised of girls who attend the football after school club but haven't represented the school so far this year. The girls loved it!
Sport w/c 12th November 2018
An excellent week of sport! Well done to our table tennis team who competed at Marlborough Academy in St Albans. The girls came fourth overall.
Some great stamina shown at the Cross-Country competition - congratulations to our fabulous team and IT who won the girl's Year 6 event (picture above).
Super sportsmanship at the boy's football match on Thursday - excellent result Wood End 'A' 2-0 Roundwood 'A' Wood End 'B' 4-0 Roundwood 'B'.
Girl's Football Tournament - Thursday 8th November 2018
They did it! Well done to our Girls football team who have won the Football tournament today! They won every single game and did not concede a goal throughout the whole tournament. They really do deserve this. We are all very proud of them!
Year 6 Chess Team - Tournament Tuesday 6th November 2018
Congratulations to our Y6 chess team, who competed against 14 other Harpenden schools in a tournament on Tuesday. They played some really good, long lasting matches and Wood End came joint third overall (with Manland and Redbourn)- a fantastic result against stiff competition. Well done to them all!
Basketball - Thursday 25th October Congratulations to our team who narrowly missed out on the semi-finals. Please see the picture in the gallery below.
Girl's League -Scores Monday 22nd October 2018
Wood End 2-0 Redbourn Wood End 6-0 Harpenden Academy
Just two more games to go and still unbeaten.
Boy's League Friendly - Thursday 18th October 2018
A Team Wood End 5-0 Roundwood Primary. B Team Wood End 1-2 Roundwood Primary.
Girl's League -Scores Thursday 11th October 2018
Wood End 6-0 Manland Wood End 4-0 Sauncey Wood
Congratulations to the team.
Girl's League - Wednesday 3rd October
We played Roundwood, High Beeches, St Nicholas and St Dominics. Six league games so far and still unbeaten!
Harpenden Girl's Football League – 25th September 2018
This week we hosted the first Girl's Football League match. Our girl's performed superbly and won both their games: Wood End 1 v 0 Crabtree and Woodend 4 v 0 Kimpton. A great start to the year!
Sports Kit
Indoor
Plain white t-shirt
Black shorts
Outdoor
Plain white t-shirt
Black tracksuit or suitable alternative
Plain black or white trainers

Community Running Club
Please refer to the school newsletter for information regarding dates. The club is open to all Wood End children along with their families and is run by parents. It takes place on Tuesday mornings on the field, starting at 8.10am and finishing at 8.40am promptly. There is no fee to attend and families can simply turn up. All children below Year 3 must be accompanied by a family member. It is hoped that by attending weekly sessions you can improve fitness, have fun and socialise with fellow students and parents.
There will be a ¼ mile loop around the field for participants to run, jog or walk. Distance awards will be available for children depending on the metres covered throughout the term. The club will take place on a Tuesday irrespective of the weather.