Sports
Sport at Wood End is thriving! Pupils and staff alike are enthusiastic about P.E. and extra curricular activities. All children are involved in two hours of high quality P.E. lessons each week, one of which is taught by a specialist P.E. teacher. There are many extra-curricular clubs ranging from football and running club to street dance and karate. On the competition front, all year groups have the opportunity to compete in tournaments throughout the year.
Yr 6 Basketball team - Thursday 13th February 2020
Our year six basketball team took part in the annual tournament yesterday at Oaklands College in St Albans. The children played four games on the day and really enjoyed learning new skills.
Girls and Boys Rugby - Thursday 6th February 2020
Our year six rugby team travelled to Harpenden rugby club yesterday to take part in the annual tournament (picture above). Our first game was against eventual runners up St Helen's where we lost 1-4. We then had good wins against Harpenden Academy and Kimpton before meeting Manland in our last group game. Despite being 2-0 ahead at half time we unfortuately lost 2-3. We then played The Grove in a play off game and once again despite leading 2-0 we lost the game 2-3. Small margins in rugby between winning and losing!
Boys Football Team - Thurs 23rd Jan & Girls Football - Fri 24th Jan & Speed Stacking - Tues 28th Jan 2020
The boys football team started their league campaign off in great style on Thursday evening travelling to Beech Hyde and winning the game 5-0. Also pleasing was five different Goalscorers. We now travel to Markyate next week.
The girls football team took part in the annual Watford FC Premier League tournament on Friday at the Watford FC training ground. The girls played seven games in total winning four, drawing two and losing one, just missing out on a semi-final place in the process. The girls had a fantastic day and enjoyed meeting men and women footballers from the club including international stars.
Our year four speed stacking team took part in the annual St Albans/Harpenden finals at Roundwood Park School. The children had a great time and the boys won the competition to qualify for the county finals.
Girl's Football - Thursday 21st November 2019
Our girls football squad played two games against the Grove School on Thursday evening, with some of our girls playing a match for the very first time. In extremely cold conditions our girls competed well and the experience was beneficial for their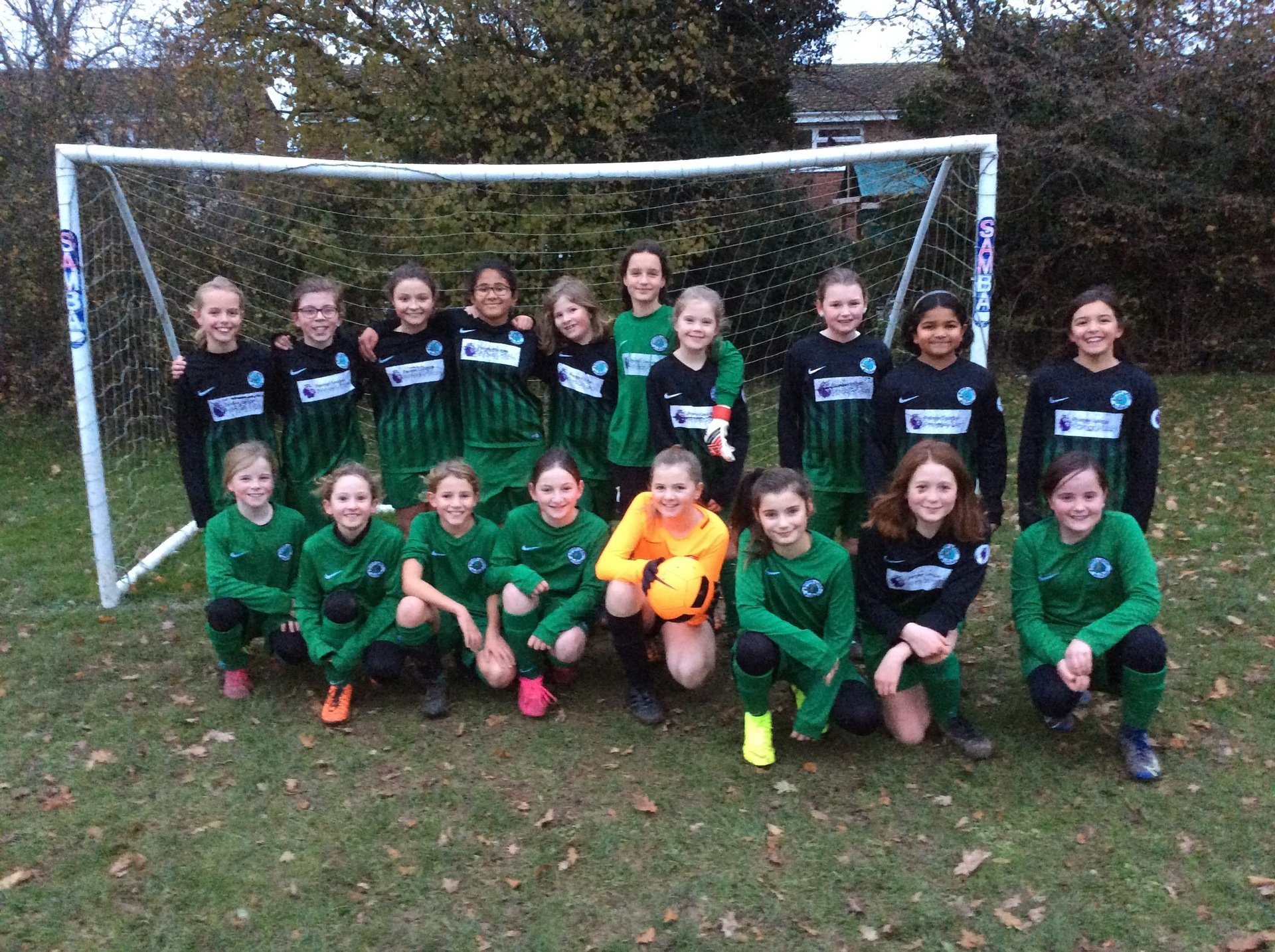 future involvement in the game.
Sport w/c 11th November 2019
An excellent week of sport! Well done to our Year 6 table tennis team who competed at Marlborough Academy in St Albans. The boys got to the final beating Kings School in the semi-finals.
Some great stamina shown at the Cross-Country competition - congratulations to our fabulous team who competed well, in freezing conditions. The year five girls finished second and we were fourth overall so a good afternoon's work!
Football Match - Thursday 14th Nov - Wood End 'A' 3-2 Manland 'A', Wood End 'B' 6-1 Manland 'B'. Special mention to LD who scored four for the 'B' team.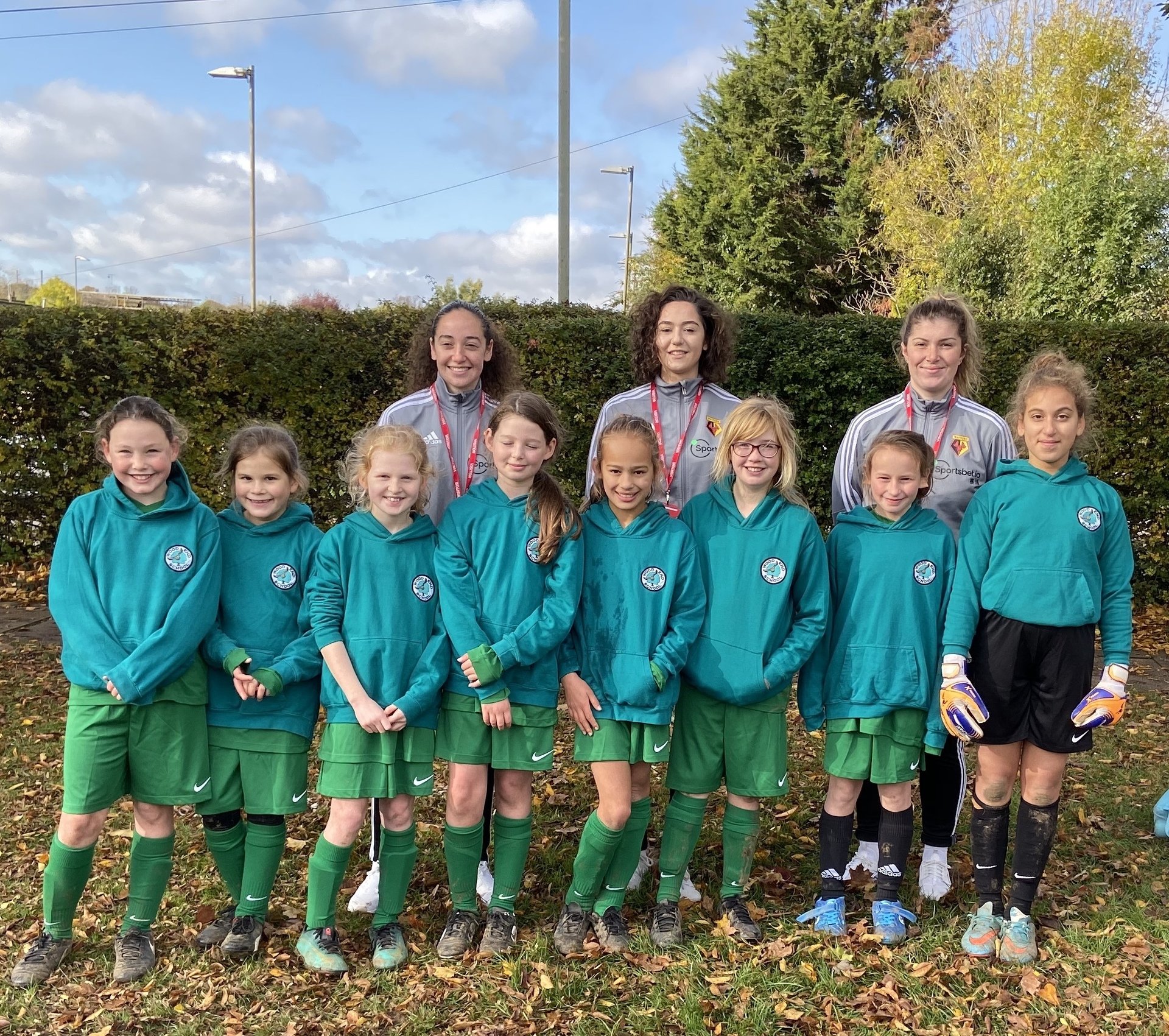 Girl's Football Tournament at The Grove 7th November 2019
Our girls played four games winning two, drawing one and losing one. The girls are pictured with some Watford Ladies FC players who were in attendance. Well done to our fantastic team.
Rugby Festival and Girl's Football 2019
On the 17th October we competed in the rugby festival at Harpenden Rugby Club. We played five games during the non competitive Saracens RFC event and all the children enjoyed representing the school.
We are proud to report that we are the winners of the Girl's Harpenden and District Football League and were unbeaten throughout the matches played. We wish them well in the forthcoming tournament on the 7th November. Please see picture below in their lovely new kit funded by our fabulous PTA.
Sports Day 2019
What a super Sports Day! There was a lovely atmosphere throughout the day and we were very proud of all the children in the way they competed, showing great sporting values. My thanks to all the parents and family members that came and watched - it was a superb turnout at both Key Stage events. Well done to Yeomans Yellow – winners of Key Stage 1 and 2, and Sports Day overall. Thank you also to Year 6 for all their help; Roundwood Park pupils, and the PTA for selling much needed beverages all day!
Sports Kit
Indoor
Plain white t-shirt
Black shorts
Outdoor
Plain white t-shirt
Black tracksuit or suitable alternative
Plain black or white trainers

Community Running Club
Please refer to the school newsletter for information regarding dates. The club is open to all Wood End children along with their families and is run by parents. It takes place on Tuesday mornings on the field, starting at 8.10am and finishing at 8.40am promptly. There is no fee to attend and families can simply turn up. All children below Year 3 must be accompanied by a family member. It is hoped that by attending weekly sessions you can improve fitness, have fun and socialise with fellow students and parents.
There will be a ¼ mile loop around the field for participants to run, jog or walk. Distance awards will be available for children depending on the metres covered throughout the term. The club will take place on a Tuesday irrespective of the weather.