School Lottery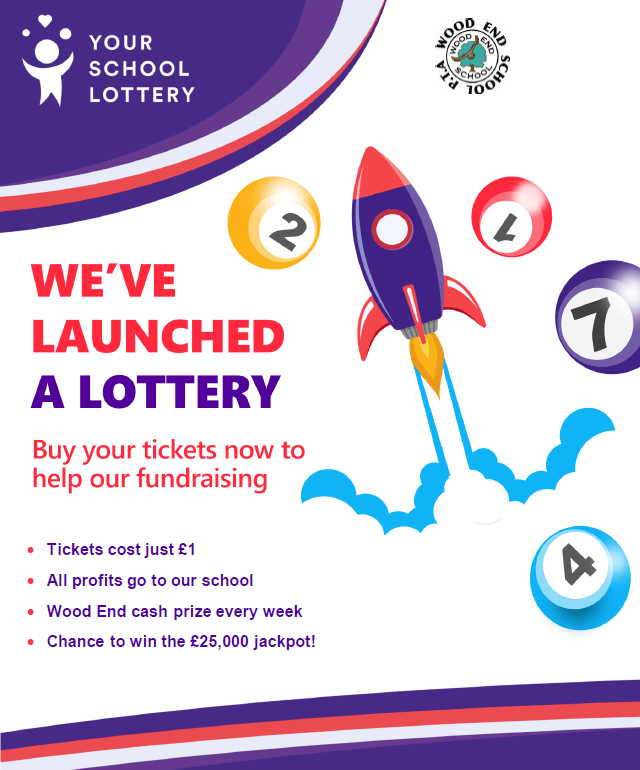 Exciting news to share! Wood End PTA have signed up to Your School Lottery, our first draw took place on Saturday 14th November 2020.

What is it? - Your School Lottery (part of the Gatherwell Ltd lottery group) was launched 6 years ago, specifically to help schools raise funds amidst growing financial pressures. The lottery is administered by Your School Lottery with a draw taking place every Saturday. There are two prizes up for grabs each week – the £25k jackpot and the school specific cash prize. The school prize is guaranteed to be £20 and increases with the number of tickets we sell via our Wood End specific lottery web site.

Why have we signed up? - A massive 40% of funds raised through our ticket sales comes directly back to the PTA. This is a fantastic rate of contribution and we hope it will help to raise funds for the KS2 Trim Trail replacement. It's a great opportunity, especially given the limited fund raising activities we currently have open to us, and hopefully something that's a bit of fun!

What does it cost? – Every ticket costs £1 and it's entirely up to you how many tickets you buy, and how often. You will see the options when you click on the 'buy tickets' link. You can pay:
as a monthly direct debit (so 1 ticket each week over a calendar month costs just £4.34)
or by debit card as either a rolling monthly payment or a one-off payment to cover 1, 3, 6 or 12 months.


How do I buy a ticket? – All tickets are purchased via Your School Lottery website, once you have registered. Visit our school specific lottery page, either use the link below or see the attached leaflet.
What happens next? – Your School Lottery will confirm any ticket purchases directly to the email you provided as part of registration. They will also use the contact details provided to notify you of the exciting news should you win a prize!

When does the draw take place? – Every Saturday at 8pm.

Look out for further updates when extra prizes appear! Please contact Ann Crozier PTA@woodend.herts.sch.uk if you have any questions.