PTA KEY NEWS
8th Nov 2019:
As we are beginning the busy online shopping season(!) - do click through from Easyfundraising or AmazonSmile to raise funds for the PTA. (See details in the Class Rep Email: "A new way to raise money for Wood End School shopping online" and on our PTA Commisions and Donations Page on the School Website: https://www.woodend.herts.sch.uk/home-1/about/commissions )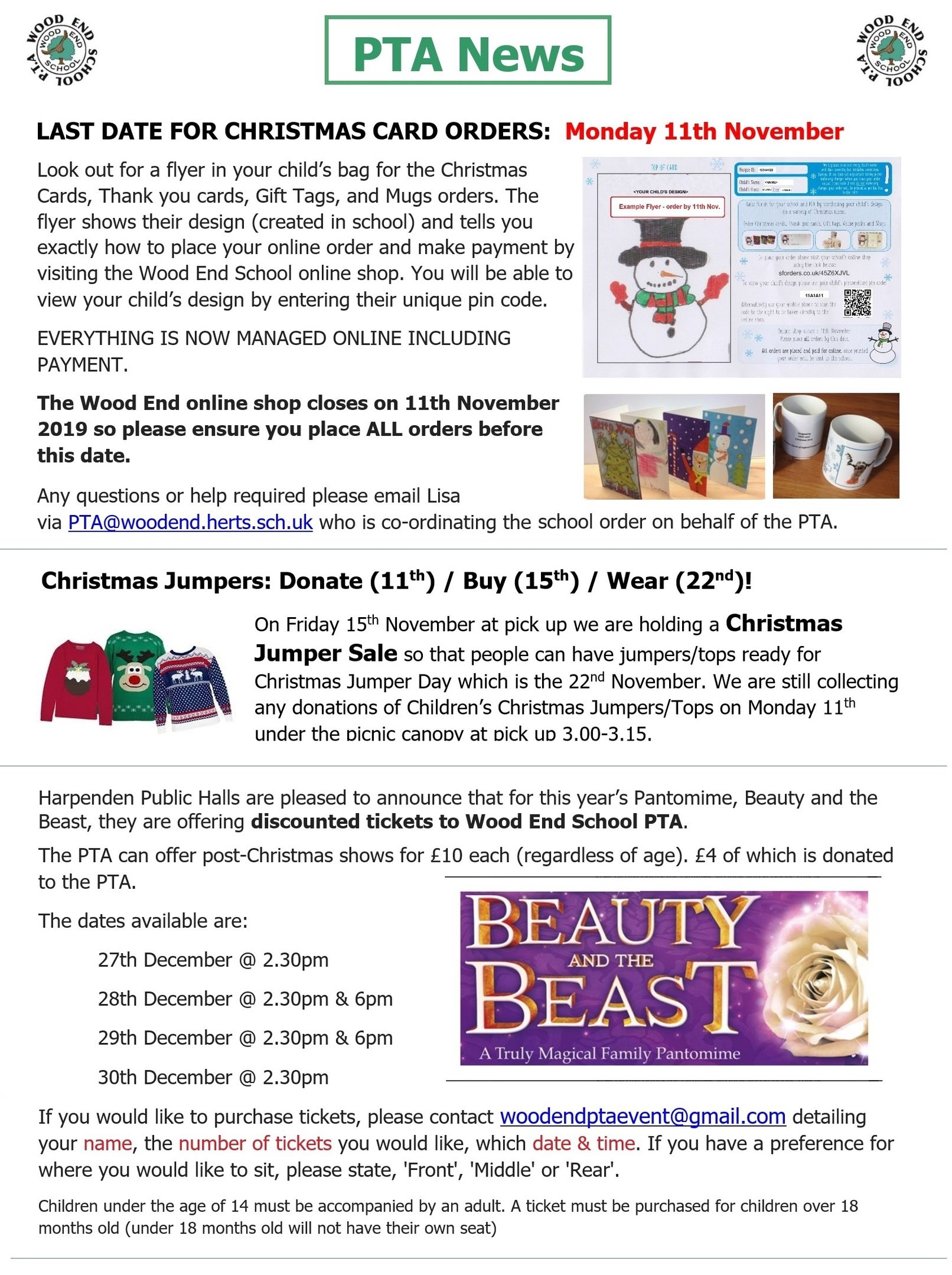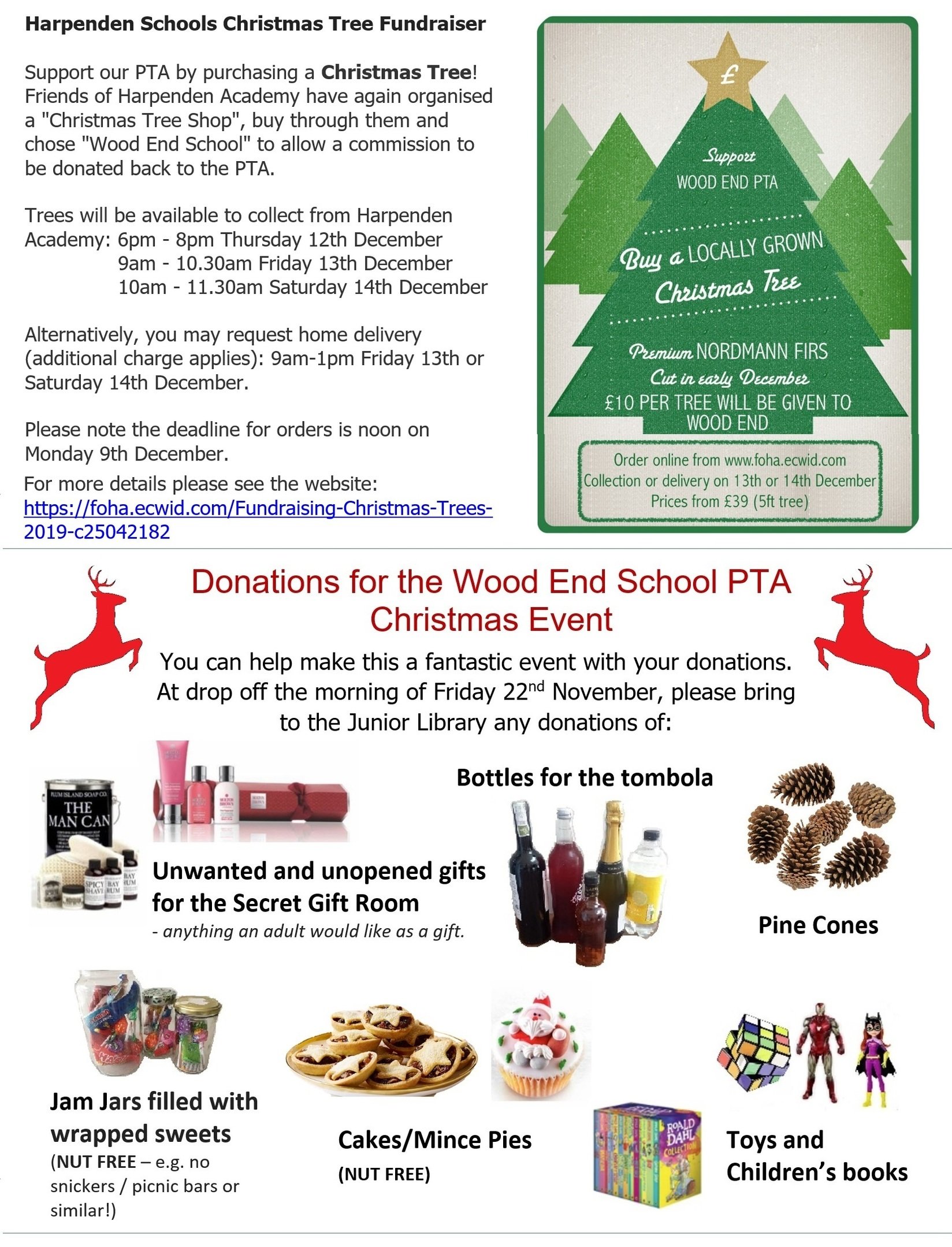 -> Do read below for details on our upcoming dates, and have a look at our other pages on this site including:
PTA DATES: UPCOMING EVENTS, MEETINGS AND FUNDRAISERS
CHRISTMAS CARD ORDER - From Monday 21st October to Monday 11th November
It is time to get organised for Christmas and purchase your children's fantastic designs whilst raising money for Wood End School. This year we are offering for sale 5 products - Christmas Cards, Thank you cards, Gift Tags, Mugs and a Value Pack - all created from your child's design.
From Monday 21st October a flyer will come home with your child in their bag. The flyer shows their design (created in school) and tells you exactly how to place your online order and make payment by visiting the Wood End School online shop. You will be able to view your child's design by entering their unique pin code.
DO NOT SEND FLYERS AND MONEY BACK TO THE SCHOOL OFFICE AS EVERYTHING IS NOW MANAGED ONLINE INCLUDING PAYMENT.
When placing the order online, please carefully check your child's name and class is spelt correctly - if you do not make changes your order will be printed as per the flyer.
NB. After ordering you will receive an email confirmation: do check your junk email folder if you can't see it!
The Wood End online shop closes on 11th November 2019 so please ensure you place ALL orders before this date. The PTA will send reminders via the newsletter and class rep emails.
Any questions or help required please email Lisa via PTA@woodend.herts.sch.uk who is co-ordinating the school order on behalf of the PTA.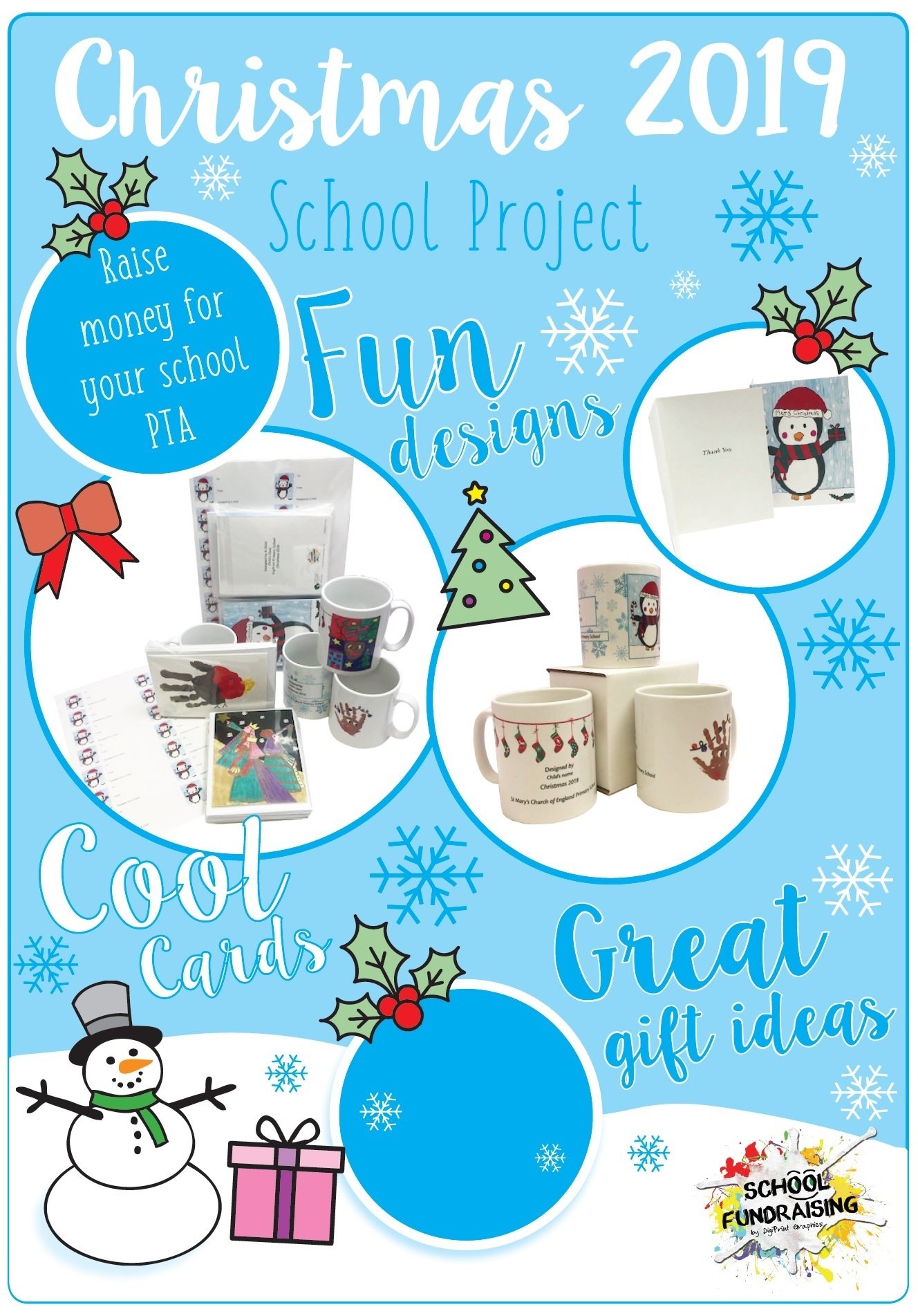 .
SECOND HAND CHRISTMAS JUMPER SALE Friday 15th November from 3pm under the Picnic Canopy
Just like second hand uniform - but for Christmas Jumpers! We are collecting now - if you have any children's christmas jumpers / tops to donate - please leave at the school office on any day.
From 5th November to 11th November, Year 3 Mums will be under the picnic canopy 3pm to 3.15pm collecting any donations.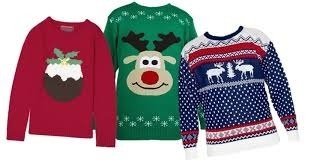 .
CHRISTMAS FAIR (AND WEAR A CHRISTMAS JUMPER/TOP DAY!) - Friday 22nd November 4pm to 6pm
Please bring to the Junior Library on the morning of Friday 22nd November any donations of:
- Bottles for the tombola
- Unwanted and unopened gifts for the "Secret Gift Room" (anything an adult would like as a gift)
- Pine Cones
- Jam Jars filled with wrapped sweets (no nuts)
- Toys and Children's books
- Mince pies and cakes (no nuts)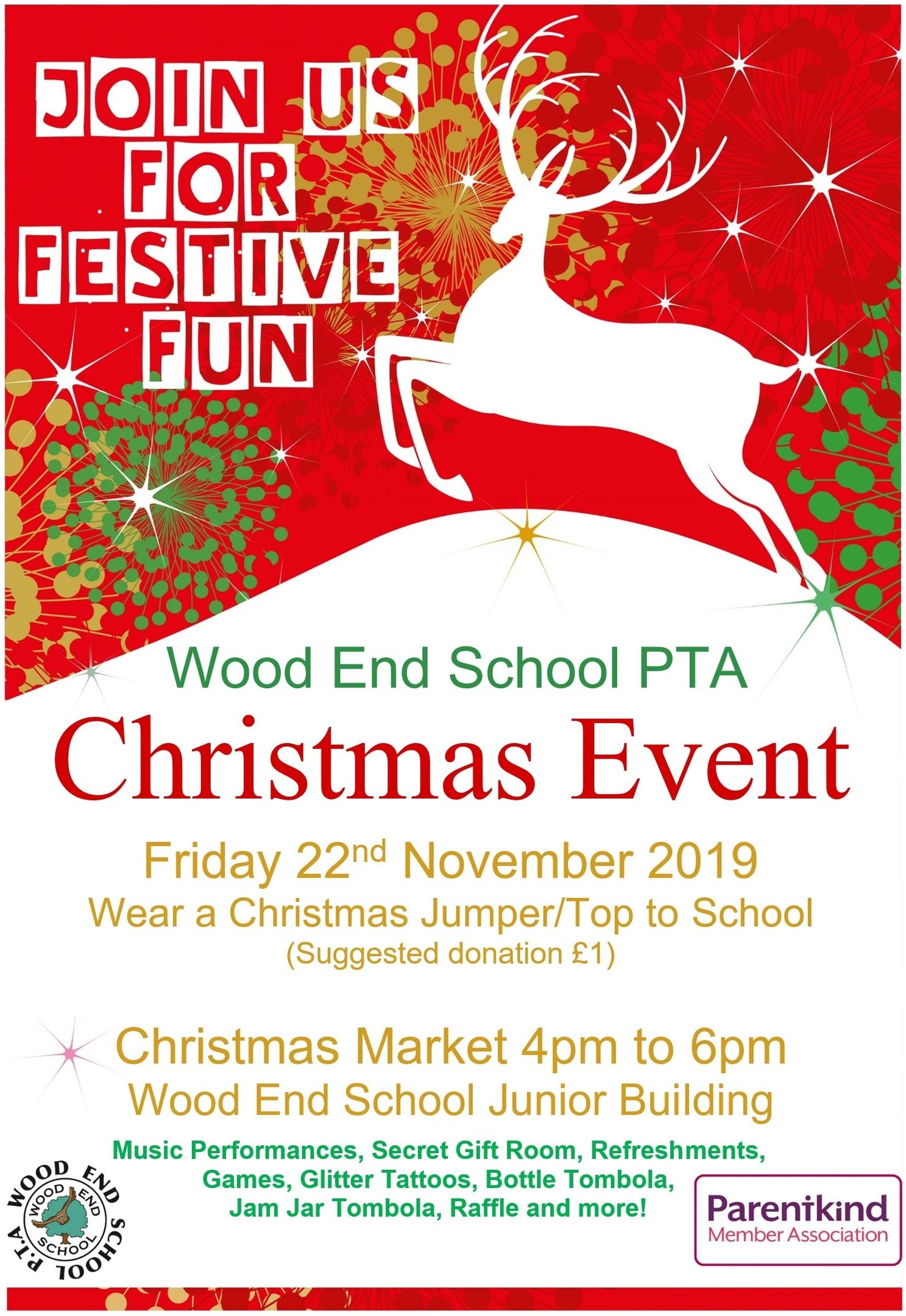 .
DISCOUNTED HARPENDEN HALL PANTO TICKETS
Harpenden Public Halls are pleased to announce that for this year's Pantomime, Beauty and the Beast, they are offering discounted tickets to Wood End School PTA.
The PTA can offer post-Christmas shows for £10 each (regardless of age). £4 of which is donated to the PTA.
The dates available are:
27th December @ 2.30pm
28th December @ 2.30pm & 6pm
29th December @ 2.30pm & 6pm
30th December @ 2.30pm
If you would like to purchase tickets, please contact woodendptaevent@gmail.com detailing your name, the number of tickets you would like, which date & time. If you have a preference for where you would like to sit, please state, 'Front', 'Middle' or 'Rear'.
Children under the age of 14 must be accompanied by an adult. A ticket must be purchased for children over 18 months old (under 18 months old will not have their own seat)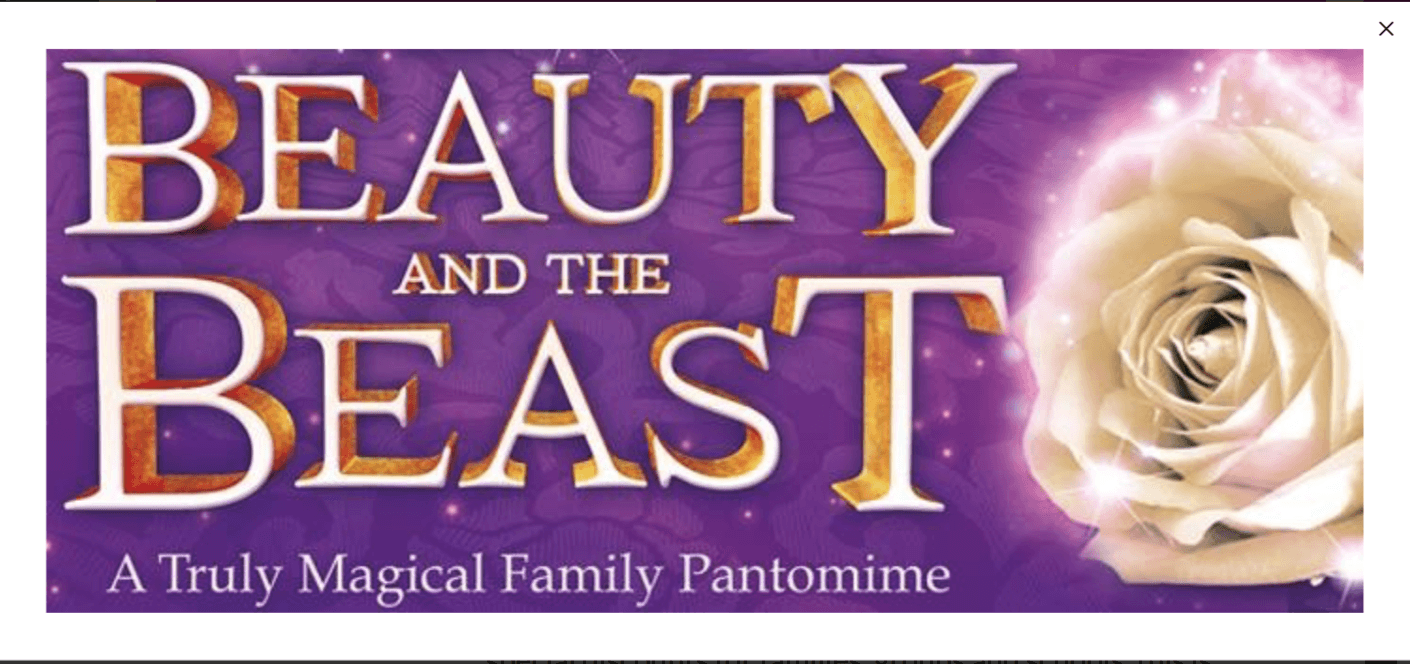 .
HARPENDEN SCHOOLS CHRISTMAS TREE FUNDRAISER
Support our PTA by purchasing a Christmas Tree! Friends of Harpenden Academy have again organised a "Christmas Tree Shop", buy through them and chose "Wood End School" to allow a commission to be donated back to the PTA.
Trees will be available to collect from Harpenden Academy: 6pm - 8pm Thursday 12th December
9am - 10.30am Friday 13th December
10am - 11.30am Saturday 14th December
Alternatively, you may request home delivery (additional charge applies): 9am-1pm Friday 13th or Saturday 14th December.
Please note the deadline for orders is noon on Monday 9th December.
For more details please see the website: https://foha.ecwid.com/Fundraising-Christmas-Trees-2019-c25042182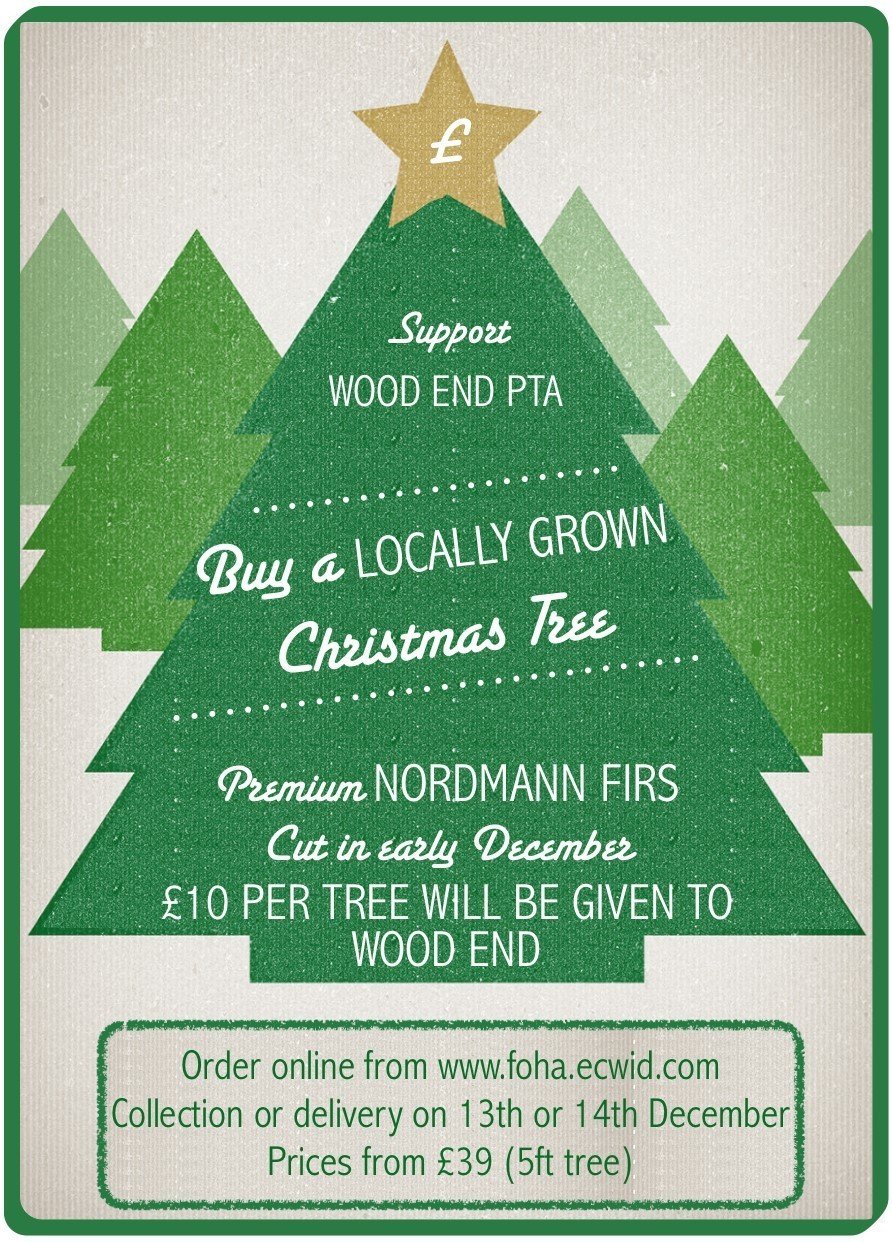 .
PTA MEETINGS FOR THIS YEAR - 7.45pm School Staff Room
Tuesday 24th September 2019
Thursday 7th November 2019 (7.30pm start)
Tuesday 14th January 2020
Tuesday 24th March 2020
Wednesday 13th May 2020
Thursday 9th July 2020
Tuesday 22nd September 2020