H

omework
Maths Homework
English Homework
Book Club
The children have been allocated book club groups and issued with a group text and book club jotters. They will be told how many chapters they need to read by a specified day the following week. They need to write 3 questions about the piece of text they have read, using the skills of Retrieval ( taking information directly from the text ) , Inference ( finding information that is implied within the text) and Choice ( why specific choices were made in terms of language, setting or character ). The reading of the book club book forms part of their home reading and they will only need to read their personal reading book once a week minimum.
We do expect children to read regularly at home for 10 mins a day as this has a big impact on their learning. Other homework set is there to support and consolidate work in school. We do not expect work at home to take longer than the maximum time given. We understand that on occasion e.g. the family going away for the weekend that homework may not be completed on time. If work isn't completed at home we give opportunity for this to be completed in school.
Bikeability
A great week of bikeability was enjoyed by our Year 5 children w/c 18th March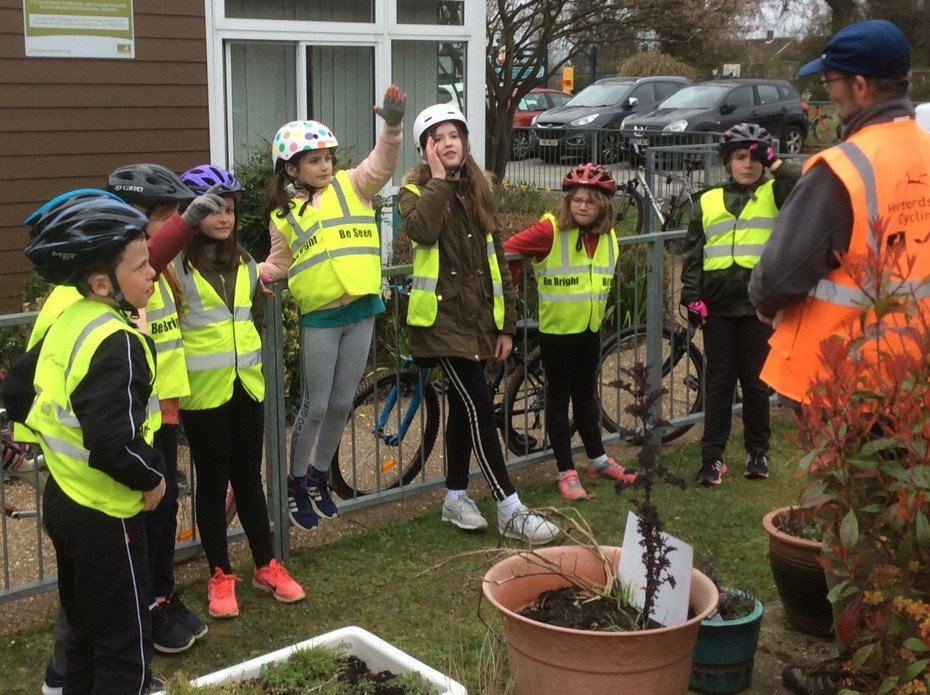 . We would also like to thank the Hertfordshire Cycle Training Team for making it a fun and informative safety experience for our children, which will stand them in good stead for their journeys to Secondary School.
Useful Websites

Log-ons for both the above sites will be given to the children by the teacher.
Enterprise Sale
Friday 1st March
Last Friday the pupils from Year 5 once again held a very successful Enterprise Sale. They managed to come up with some really original ideas this time, alongside some of our old favourites, which meant there was something for everyone. Over 60 stalls were set up in record time, ranging from innovative games, to delicious home baking and a range of handicrafts which were set up in our very own Craft Market. We raised in excess of £850 and will let you know which exciting resources we will be purchasing for the school. Thanks to all those who assisted in the preparation, contributed to the stalls and attended this successful event.
Year 5 Visit to the British Museum - Thursday 31st January
Year 5 enjoyed a stroll through History on Thursday at the British Museum. Having investigated the Sutton Hoo discoveries in class, it was wonderful to see them displayed to such great effect. Next they moved onto the Ancient Egyptians whose mummification proved a particular draw. This will certainly help them to bring their writing about this subject to life. The children enjoyed completing discovery sheets, and took hundreds of photos of the impressive artefacts. They had a great day and were a credit to the school.
Year 5 Enterprise Sale - Friday 9th November 2018
Friday November 9th saw a packed Enterprise Sale with over 60 stalls and activities, with something for everyone. The Year 5 children once again came up with some excellent ideas and produced a range of innovative games, delicious home baked produce and handicrafts, including Christmas decorations and beautifully scented lavender bags. With the support of their families and everyone that came along after school on Friday to make it such a successful event, the children raised in excess of £860. We will let you know which exciting resources we will be purchasing as a school to further enrich the learning environment. Thanks to all those who contributed and attended this successful event.
Year 5 Visit to Kingswood Activity Centre - Monday 1st to Wednesday 3rd October 2018
The Year 5 children really enjoyed their residential trip to the Kingswood Activity Centre in Cromer, Norfolk.
The children developed their independence by taking responsibility for themselves and their belongings, including successfully making their own beds!
They showed great determination and enthusiasm when participating in a wide range of activities where they were able to challenge themselves and take risks. Some of the activities that the children most enjoyed were abseiling, fencing and archery amongst others.
They spent an afternoon on a sunny and breezy beach where they created sand sculptures, searched for fossils and went rock-pooling.
It was a wonderful experience for all!
Year 5 Visit to National Space Centre - Wednesday 7th November 2018
On Wednesday Year 5 enjoyed a very interesting and enjoyable trip to The National Space Centre in Leicester. The children had the opportunity to programme space buggies; learn about becoming an astronaut and explore the information galleries. The visit concluded with a very bumpy, exciting trip to Jupiter in a space simulator. The children behaved beautifully while representing the school, and we received compliments about their enthusiastic participation.