PTA KEY NEWS
19th Oct:
We had a fantastic time at the Parents' Disco at Bennet's Club last Saturday. The last few costs are being finalised; but it looks like evening has raised over £1,700 for the PTA. A massive thank you to Morven and Martin for organising and to the absolutely amazing band Akiva!

PTA Christmas Card Order Forms have been sent home book bags this week. Please look out for an order form for your child's Christmas Card Design. Do check your child's name is spelt correctly, and please return forms and payment to the school office by 7th November at the latest.

Our PTA AGM will be on Tuesday 6th November at 7.30pm in the Staff Room at Wood End school.

While the existing PTA Officers are happy to remain in their positions for another year, if anyone is interested in standing for any of these positions or sharing a position with an existing Officer, please email Laura Devlin, PTA Secretary at pta@woodend.sch.co.uk to register your interest by 24th October at the latest. Currently the PTA Trustee Committee is made up of 2 Co-Chairs, Secretary, Communications Officer, Treasurer and Compliance Officer (as detailed here: About The PTA )

Everyone is welcome to join us at this annual meeting . The PTA is of course not just the Trustees(!) Do come along to listen in or share your views - we'd love to see you there.

Save the Date: Wood End PTA Christmas Event – Friday 30th November 4pm to 6pm

Save the Date: PTA Quiz Night - Saturday 2nd February
-> Do read below for details on our upcoming dates, and have a look at our other pages on this site including:
PTA DATES: UPCOMING EVENTS, MEETINGS AND FUNDRAISERS
CHILDREN'S DISCO Friday 19th October - Infants will be straight from school 3.30 to 4.30, Juniors 5.00 to 6.00.
(non-scary!) Halloween Themed Disco. More details on an email from your Class Rep.
Infants may bring a named bag with a change of clothes into school on Friday 19th - costumes or party clothes! (Nothing tricky to wear please as they will need to get changed themselves)
At the Infants disco, a party bag will be available for each child with some glow bracelets and a snack of Walkers Ready Salted Crisps and a mini bag of Haribo Starmix *. This is all included in their ticket price - Infants should not bring any money.
Last few Tickets for Infants are still on sale via the School Gateway until Tuesday 16th October.
As of 16th Oct at 9am: 1 ticket remains available for the Junior Disco.
Products to be sold at the Tuck Shop* during the Junior Disco are:
· Haribo Starmix and Tangtastic mini bags 20p
· Wispa, Twirl, Kitkat, Toffee Crisp and Crunchie Chocolate bars 50p
· Small Butterkist Toffee Popcorn 50p
· LED Halloween Flashing badges £1
· Halloween Glow in the Dark Temporary Tattoos 50p
We need lots of volunteers during the discos - and would very much appreciate more during the Infant Disco, during changeover, during the Junior Disco and for tidy up - please let us know if you can help via WoodEndPTADisco@gmail.com.
* Please let us know of any allergies via WoodEndPTADisco@gmail.com.

CHRISTMAS CARD ORDERS
Look out for order forms coming home in book bags from Wednesday 17th October. Please check the spelling of your child's name. Forms must be returned with payment to the School office by Wednesday 7th November at the latest.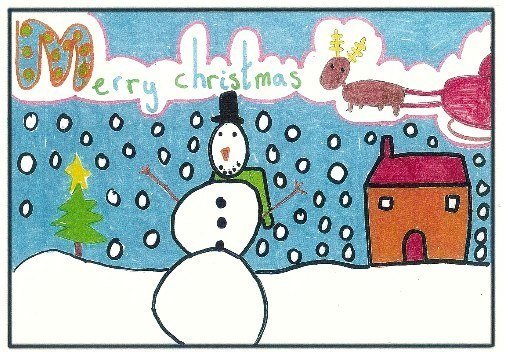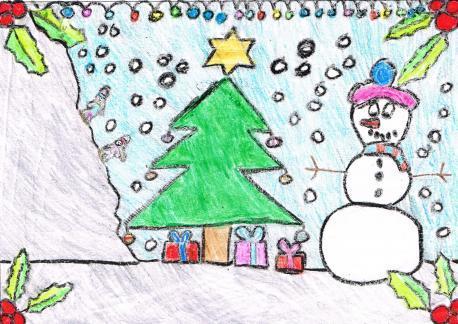 PTA AGM Tuesday 6th November - 7.30pm start in the School Staff Room
Everyone very welcome to our AGM, followed by regular PTA Meeting.

CHRISTMAS EVENT Friday 30th November
More details to follow soon for a Christmas event on Friday 30th November. We need people to help organise. Without your help these events will not happen. Please let us know if you can be part of a team to get this underway.

HARPENDEN SCHOOLS CHRISTMAS TREE FUNDRAISER
Support our PTA by purchasing a Christmas Tree! Friends of Harpenden Academy have organised a "Christmas Tree Shop", buy through them and chose "Wood End School" to allow a commission to be donated back to the PTA. Link to shop: https://foha.ecwid.com/Fundraising-Christmas-Trees-c25042182
The British grown Premium Nordmann Fir trees will be available for you to collect from Harpenden Academy, Vaughan Road, on 6th December between 7pm and 9pm, and on 7th and 8th December between 9am and 11am. If you are unable to collect, delivery to you can be arranged on 7th or 8th December between 9am and 1pm for an additional £5 within 5 miles of Harpenden Academy.
Last orders by 3rd December.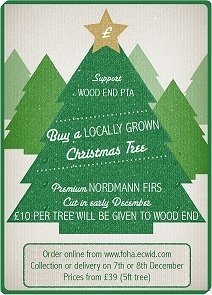 PTA QUIZ NIGHT
The ever popular PTA Quiz night will return on Saturday 2nd February. Doors (and bar!) will open at 7pm for a 7.30pm start. More details to follow after half term.